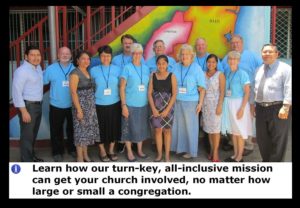 What – Evangelism through teaching EFL (English as a Foreign Language) using our own popular Practically Speaking English curriculum which emphasizes the importance of building a trusting relationship and then sharing the gospel with our student friends. Hundreds of children, teens and adults attend each of these events where they learn some English, learn that they are  loved and learn how to begin a relationship with Jesus Christ.
Practically Speaking Children's English (featuring our Spanish speaking puppets)
Practically Speaking Teen English (our special session for teens aged 13-15)
Practically Speaking Conversational English (for ages 16 to 90)
Practically Speaking Business English (for adult, intermediate and advanced students)
Where – The venue is in a developing country of Central or South America, Central or Eastern Europe or Mexico in partnership with a local Baptist church or church planter.  For the specific church partner and location, see the Events Schedule.
When – See the Events Schedule.  This is typically a Friday or Saturday through Monday (10 or 11-days) event, inclusive of travel.
How much* – Approximate Cost – $2,000 – $2,500 (includes airfare, ground transportation, materials, room and board, and insurance.) A non-refundable deposit of $500 will secure your place on this team.  See the Events Schedule  for the published cost of this mission.
Who – NO PREVIOUS TEACHING EXPERIENCE IS NECESSARY. We need 12-15 adult men and women who will be teachers and assistant teachers of EFL using curriculum developed specifically for this ministry. Teens accompanied by a parent are also welcome.  Each teacher will need a valid U.S. passport. We will provide all the training and curriculum materials.
Registration for this event is limited, so visit the Events Schedule  or click here to register or here to request more information.