by Donna from Panama City, FL (January 14, 2019)
(Pictured: Jody, Trisha, Donna, Kenneth)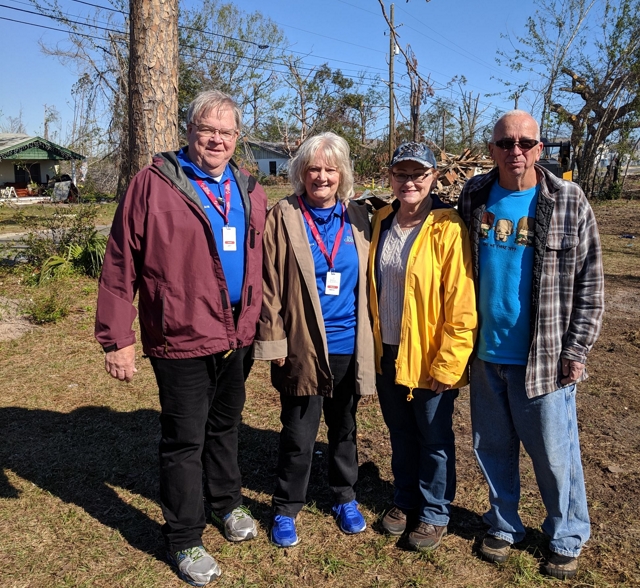 I often think about the day I was born. It was 10:19 A.M., December 17th, 1953, at Sheppard Air Force Base, Wichita Falls Texas.
I imagine the moment I was wrapped in the hospital blanket and placed in the nursery. Could God have had a conversation with me? Did I hear him say, "One day, little one, you will seek me, and find me, when you search for me with all your heart. Then, I will hear you and place you on the path I have called you to walk."
Could that conversation have continued like this, "Little one, wait. For in about twenty-four hours, there is a blessing coming your way that will take a while for you to receive."
Then, on December 18th, 1953, at 10:48 A.M., a little boy, was also wrapped in a hospital blanket, and placed in the same nursery. I cannot prove it, but he must have been placed right next to me. Could the conversation have, again, continued when God may have said, "I have given life to this little one next to you. He has been placed in this world to be a light for me. Many will be recipients of my love, mercy, and grace through his hands, and his voice. I have prepared a path for him and his help mate, to cross paths with you one day when you need me most."
On October 10th, 2018, around mid-day, the worst storm to hit the U.S. coasts came ashore in the panhandle of Florida. Thousands of homes, businesses, schools, hospitals, and even churches were damaged or destroyed. The city, county, and surrounding cities of where I live were at the mercy of first responders. They came quickly, but the devastation was so severe, it took a long time for some of us to get the much-needed help, and we waited.
On January 10th, 2019, three months to the date of the catastrophic event, a big bus, loaded with Samaritan's Purse volunteers, arrived at my cousin's house next door. There was a U-HAUL truck loaded with equipment to rake, shovel, and clean debris.  A pickup truck with a sign on the door that read, 'Billy Graham', was another beautiful site.
I grew up watching Billy Graham crusades on a black and white television, feeling conviction when the choir sang Just as I Am. Oh, how I wished to be among the thousands to come forward and receive what they did. That wish was granted one day, but not at a crusade. I was invited to a vacation bible school at a little Baptist church on a hill, in Roanoke Rapids, North Carolina. God saved my soul as I listened to the familiar choir song, Just as I Am.
And here in my front yard, walking towards my husband and me, were Billy Graham Association Chaplains Jody and Trisha. What a welcome greeting from two precious people I thought were about to drive away, never to see them again.
Chaplains Jody and Trisha listened as we told our story. When we told how my cousins from Texas, had brought their RV for us to live in, that is when memory lane began to replay. During our conversation I learned that Chaplain Jody was born December 18th, 1953, at Sheppard Air Force Base, Wichita Falls, Texas. This was a mouth dropping moment for me. When I shared my birth place and date, his mouth dropped.
Sixty-five years had passed, and here we met, side by side. God's hands, His voice, extending help and comfort at a time when I needed him most. We did not plan it, but Chaplain Jody and I, stood, joining hand in hand, making a prayer circle with Kenneth, and Chaplain Trisha, and with the voices as angels, they prayed for us. God's hands, God's voice.
What a reunion. We had the privilege to see one another briefly, for the three days they were in our area. We were also blessed to share the evening meal with about two hundred other Samaritan's Purse volunteers at the church who hosted them.  Information for future communication was exchanged before they left. By the way, the same doctor that helped to deliver me, also helped to deliver Chaplain Jody. That information was verified on our birth certificates. What an awesome God!
Dear God, I thank you for directing our paths. I'm so thankful for the day that I sought after you with all my heart, and found you, and you took me in, just as I am.
(Used with permission)