Nicaragua is in crisis! Our Nicaraguan brothers and sisters need our help now.
We are praying for peace and safety for our brothers and sisters in Nicaragua.  In the midst of the current crisis increasing prices and shortages of food, fuel, medicine and medical care are being reported to us.  Our partners continue to minister in their communities while they care for their own families.  We are ready to help our Nicaraguan brothers and sisters by providing additional financial aid so that they may continue to reach the lost, minister to their churches and meet the needs of their families.  We are asking for help in meeting these needs.  Donations in any amount will be used wisely to meet the essential needs of our partner families.  To donate use the PayPal button below or mail your check to Jody Kennedy International, PO Box 6802, Fort Worth, TX 76115.
---
[masterslider alias="ms-78″]
Make this year's vacation a memorable one.  Invest it in touching lives for eternity by joining us in Kingdom labor.
---
| | |
| --- | --- |
| View the Event Schedule | Team Member Registration |
| | |
| Learn more about our unique method of evangelism using our PSE curriculum for children, teens and adults. | Learn How We Can Help You or Your Church Be Mission Going and Mission Sending. |
---
You can make a general donation securely and safely with Paypal.

If you want to be specific about how your donation is used, check our catalog of projects and giving opportunities.  Below are some of the current activities (among many).


 Asaph Music Academy


 Iglesia Bautista Rubenia (Rubenia Baptist Church) new start


 Help an indigenous pastor in Nicaragua


 Ministry transportation in Nicaragua


 Scholarship fund for short-term volunteers
---
Practically Speaking English Missions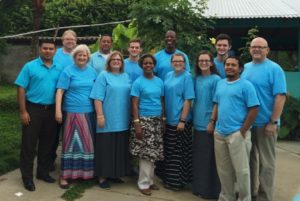 Reaching the non-English speaking world with the gospel of Christ through the gift of English.


 Evangelism through Conversational English


 Evangelism through Business English


 Evangelism through Children's English
---